Bee Pollen Smoothie
My friends started to consume bee pollen recently, and have turned me onto this amazing superfood.  If you haven't tried bee pollen before I definitely suggest it.  Our local Vitamin Cottage is selling it fresh from Colorado, but I know you can also order it online if you can't get it from a local vendor.  The flavor and consistency are quite interesting.  It tastes a little like you are eating flowers.  It is slightly perfumed and the consistency is a little chalky, so I wouldn't eat it by the spoonful, but it is a great addition to a smoothie!
If you are not sure about the consistency, and need a little motivation, check out what Meghan Telpner has to say about the benefits of bee pollen. She has her struggles with the flavor, but knows it is worth it for all of the health benefits including: stress reduction, mood improvement, metabolic boost and more!
[print_this]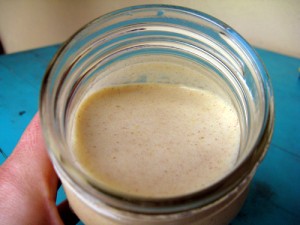 Bee Pollen Smoothie
1 c almond milk
1/2 c frozen banana slices
1 T almond butter
1.5 t bee pollen
1/8 t cinnamon
Using a blender combine all ingredients on high and serve in your favorite smoothie glass.
[/print_this]
Let me know if you have some fun recipes with bee pollen.  I would love to try some new ideas.  Next on my list is to try Meghan's Superfood Bon Bons!
Tags: almond butter, almond milk, banana, bee pollen, cinnamon
Categories:
beverages
,
breakfast
,
dairy free
,
egg-free
,
gluten-free
,
indulgent
,
snacks
,
vegan
,
vegetarian
,
wheat-free
Posted on Wednesday, September 22nd, 2010. Follow responses to this entry through the RSS 2.0 feed. You can leave a response, or trackback from your own site.