Vegan Coleslaw
The bustling Santa Fe Farmer's Market has thinned out in the past few weeks.  Some vendors are no longer there, and almost all of them have moved inside to stay warm during the early morning hours of the market.  Once you arrive inside though, you realize that these farmers still have a great deal of delicious seasonal ingredients available and I become grateful that Santa Fe has a market that continues year round.
Lately I have been appreciating the delicious carrots that are coming out of the Gemini Farm's stand.  They sell a mixed bag of the traditional orange carrots, combined with pale yellow, and purple carrots.  Once I wash off the coat of dirt that preserves them, I reveal exquisite, sweet carrots with endless possibilities.
One of the combinations that I am enjoying lately is a homemade coleslaw.  It is a celebration of the cabbage and root veggies that are in season right now, and the colors are beautiful!  The raw beets eventually make this combination into a deep red, crunchy dish that satisfies my cravings for sweet, salty and crunch all-in-one.
[print_this]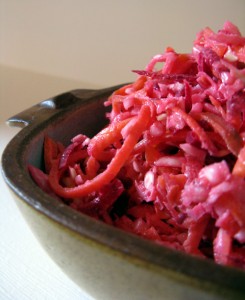 Pink Vegan Coleslaw
1/2 head green cabbage
1 large beet (peeled)
2 large carrots
Vegenaise mayonaise (made with Grapeseed oil)
apple cider vinegar
1/2 small lemon
salt
pepper
Using the grater feature of a food processor (or a hand-held grater), grate the beet, carrots and cabbage until shredded.
Combine the vegetables in a bowl and season.  Begin with 2 tablespoons of vegenaise, 1 tablespoon of apple cider vinegar, the juice of 1/2 lemon and salt and pepper to taste.
Everyone has different preferences for more or less mayo etc, so taste the combination and see if you would like to add a little more.
[/print_this]
Let me know what you think!
Tags: apple cider vinegar, beet, cabbage, carrot
Categories:
dairy free
,
egg-free
,
gluten-free
,
salad
,
snacks
,
vegan
,
vegetable side
,
vegetarian
,
wheat-free
Posted on Monday, December 6th, 2010. Follow responses to this entry through the RSS 2.0 feed. You can leave a response, or trackback from your own site.