Pumpkin Tangerine Spice Cake
Squash, spices, citrus…  This cake warms my belly and my soul every time I taste it.  I have been playing with the recipe ever since Thanksgiving and I think I have found the perfect combination of ingredients.
I was originally inspired by Bea's Apple Pumpkin Upside Down Cake which was a delicious contribution to my Thanksgiving with friends.  She creates delicious gluten-free treats but I have been changing ingredients and measurements to incorporate some of my favorites into this delicious cake, and have found that it works beautifully without the apples, and as a bread too if you prefer.
[print_this]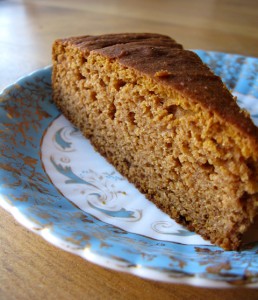 Pumpkin Tangerine Cake
1/4 c agave
2 eggs
1/4 c coconut oil (warmed to a liquid)
2/3 c pureed pumpkin (I used roasted butternut)
1/3 c almond milk
2 T tangerine juice
1 c amaranth flour
1/2 c oat flour (gluten-free)
1 t baking soda
2 t baking powder
1 t cinnamon
1/8 t nutmeg
pinch of salt
1 T tangerine zest
Preheat the oven to 350 F.
Oil a 9 inch round cake pan with coconut oil and then add a cut piece of parchment paper to the bottom of the pan.
Combine the eggs and agave together in a medium bowl until completely mixed.  Next add the pureed pumpkin, almond milk and tangerine juice and mix thoroughly.
In a separate bowl combine the dry ingredients: amaranth flour, oat flour, baking soda, baking powder, cinnamon, nutmeg, salt and zest.
Next add the liquid mixture to the dry mixture and stir until combined.  Lastly add the coconut oil stirring until the batter is smooth and consistent.
Pour the batter into the cake pan and cook in the oven for about 40 minutes.  Test with a knife in the center of the pan to see if it is done.  The cake will be moist, but knife should be mostly clean when it comes out.
Let the cake cool and then take out of the pan and cool on a rack.
Enjoy!
[/print_this]
Tags: agave, almond milk, amaranth flour, butternut squash, cinnamon, coconut oil, eggs, nutmeg, oat flour, tangerine
Categories:
alternative grain
,
breakfast
,
dairy free
,
dessert
,
gluten-free
,
indulgent
,
snacks
,
vegetarian
,
wheat-free
Posted on Wednesday, December 8th, 2010. Follow responses to this entry through the RSS 2.0 feed. You can leave a response, or trackback from your own site.