Gluten-Free Chocolate Banana Bread
Breakfast in bed?  Yes!  This chocolate banana bread is so good that I want to get back into bed with it (and my bee pollen smoothie) and savor it wrapped in the warmth of my blankets.  Maybe I will do just that this weekend.  The weather here in Santa Fe has dipped a little overnight lately, and staying in bed (or getting back into bed) is a lot more tempting!
So if you like the idea, and want to have some ready-to-go breakfast, or a snack later in the day, try out this banana bread.  I adapted it from a recipe on La Tartine Gourmande for a Quinoa Banana Bread and made my own version with raw cacao and a few other ingredient changes.
[print_this]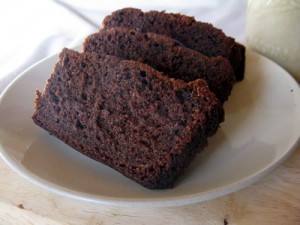 Chocolate Banana Bread
1 c amaranth flour
1/2 c gluten-free oat flour
1/4 c raw cacao powder
1 t baking powder
1/2 t baking soda
2 eggs
1/4 c agave
1/2 c coconut oil (warmed to liquid)
3 ripe bananas, blended
Preheat oven to 350 F and grease a bread pan with coconut oil.
Combine the amaranth flour, oat flour, baking powder and baking soda in a medium bowl and set aside.
Using a mixer or whisk, combine the eggs and agave until light and add in the bananas.
Blend the flour mixture into the liquid mixture.
In a separate bowl combine the coconut oil and cacao powder until there are no lumps from the cacao.  Once ready, mix this combination in with the batter, mixing completely.
Pour the batter into the bread pan.
Bake for 30 – 50 minutes.  If you are living at altitude it will take longer.  It took me about 50 minutes.  Test with a knife in the center.  If the knife comes out mostly dry, its done!
[/print_this]
Tags: agave, amaranth flour, bananas, coconut oil, eggs, oat flour, raw cacao
Categories:
alternative grain
,
breakfast
,
crackers and breads
,
dairy free
,
dessert
,
gluten-free
,
indulgent
,
snacks
,
vegetarian
,
wheat-free
Posted on Friday, September 24th, 2010. Follow responses to this entry through the RSS 2.0 feed. You can leave a response, or trackback from your own site.