Gluten-Free Chocolate Hazelnut Cake
This past weekend I headed up to southern Colorado to celebrate a very special birthday.  My sweetheart was turning…well, maybe I shouldn't say how old, but anyway, it is the precursor to a big one! 
Although I have always wanted to try-out baking a gluten-free birthday cake before, I have never had the courage, until now!  I was inspired by a chocolate-hazelnut cake recipe that I had tried about 1.5 years ago, and also more recently by the chocolate mousse recipe that Joslyn shared on the Shak-Shuka blog…  So I thought I would try them together…  I have never made a layered cake before!
Considering the circumstances, my first attempt was a smashing success!  I was headed to a retreat center, and was unsure whether I would have time/resources to make the cake there.  So I made the layers at home, kept them in the cooler for the 3.5 hour drive, and pieced them together the night of the birthday dinner.  Everyone was quite pleased with it, including my sweetie, who was happy to have leftovers!
[print_this]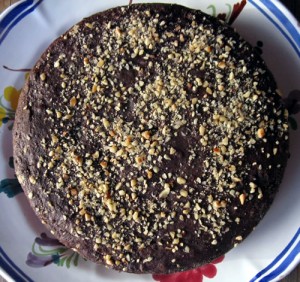 Chocolate Hazelnut Cake
inspired by La Tartine Gourmande
1/2 c raw cacao powder
1/2 c coconut oil
4 eggs
1/3 c agave
1/3 c applesauce (unsweetened)
2/3 c finely ground hazelnuts
1/3 c buckwheat flour
pinch of salt
extra ground hazelnuts for top
Preheat oven to 350 F
Grease 8-inch cake pan and cut a round piece of parchment paper to fit the bottom of the pan.  Use flour to coat the sides of the pan removing any excess.
Separate the egg whites from the yolks, and beat the yolks together with the agave.  Next add the applesauce, mix well and set aside.
Mix the coconut oil with the cacao powder until creamy, then combine it with the egg/agave mixture.
Add the ground hazelnuts and buckwheat flour to the mix.
It is looking really yummy, right?
In a separate bowl beat the egg whites with a pinch of salt until firm.  Fold the egg whites into the cake batter gently.
Pour batter into the cake pan and cook in the oven for about 30 minutes.  Test by inserting a knife into the center and if it is almost completely dry it is done.  Let cool on a cooling rack until it is ready to be handled and taken out of the pan.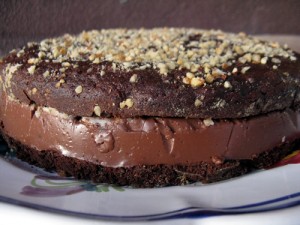 Chocolate Coconut Mousse
inspired by Shak-Shuka
2 cans of coconut milk (14 oz. – full fat)
1/2 c agave
2 t agar agar powder
1/2 c raw cacao powder
1 t vanilla extract
1 t cardamom
pinch of sea salt
1/4 c arrowroot powder
Grease an 8-inch cake pan with coconut oil and cut a round piece of parchment paper to fit the bottom of the pan.  Set aside.
Combine arrowroot powder with 1/4 c coconut milk and mix well.  Set aside.
In another bowl combine the cacao powder with 1/4 c coconut milk until completely mixed.
In a saucepan combine the rest of the coconut milk, agave, agar powder, vanilla, cardamom and salt, and bring to a boil.  Once the mix boils, reduce heat to a low simmer for 8 minutes stirring occasionally.  You will see the mix begin to thicken.
Add the arrowroot powder mix to the saucepan and simmer for 1 more minute.
Remove the mousse from the heat and mix in the cacao mixture stirring thoroughly.  Transfer the mousse to the prepared cake pan and let it cool to room temperature.  Refrigerate the mousse for at least 30 minutes.
Layered Cake
Once the cake and mousse have cooled and are ready to serve, slice the cake in half height-wise (very carefully).  The mousse should be quite solid and able to remove from the pan in one piece inverting it onto the bottom layer of the cake.  Lastly place the top layer of cake above the mousse.
Serve and enjoy!
***note: I am happy to hear your experiences if you make this cake, and will be sure to update if I make improvements on the recipe and layering techniques.  Thanks!
[/print_this]
Tags: agar agar, agave, applesauce, arrowroot powder, buckwheat flour, cardamom, coconut milk, coconut oil, eggs, hazelnuts, raw cacao, vanilla
Categories:
alternative grain
,
dairy free
,
dessert
,
gluten-free
,
indulgent
,
vegetarian
,
wheat-free
Posted on Saturday, June 26th, 2010. Follow responses to this entry through the RSS 2.0 feed. You can leave a response, or trackback from your own site.