Coconut Oil, Star Fruit Cake, and Yoga
This Sunday Yoga on the Beach held a brunch in addition to a fabulous morning yoga class led by Céline.  Class was great, the weather was beautiful and brunch was delicious.  It was a perfect event to test out a fun new variation on my upside-down fruit cake.  Here in Key West we are fortunate to get starfruit from a local grower, and it makes for such a beautiful cake!  If you try this out, and are interested in making the starfruit upside-down cake dairy-free I replaced the yogurt in the recipe, with mashed avocado.  It came out perfect!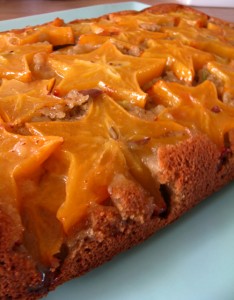 If you have been following my blog, you will have noticed that I often use coconut oil in baking.  I have been using coconut oil for a few years now, and definitely recommend that if you have not tried coconut oil yet, you should consider taking the leap.  Coconut oil adds a sweet natural coconut flavor to baked goods, and you can use less of it than you would other oils or fats, therefore saving on the fat content of your sweet treat.  It is also one of the few oils that maintains its quality at high heat so the quality of the food that you consume is also maintained.  Don't think that the benefits of coconut oil end there…check out Meghan Telpner's blog to find out more.
When shopping for a coconut oil it is important to purchase a quality coconut oil that is unrefined, organic and extra virgin.  I recently was fortunate enough to receive a sample of Tropical Traditions Extra Virgin Gold Label Coconut Oil.  How exciting to receive a no-obligation sample of a product that I am so excited about!  I tested out their extra virgin coconut oil in my starfruit cake and was very happy with how it came out.  Everyone else at the brunch was pretty happy with it too!
Let me know if you get a chance to try out the Starfruit Cake yourself, and if you join the bandwagon of coconut oil lovers, I would love to hear about your experiences.